My name is Jane Clothier and I'm an equine bodywork practitioner working in the Armidale, Tamworth and Coffs Harbour areas of NSW. My work includes: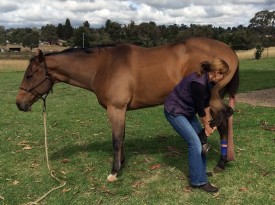 Full horse assessment for restriction, discomfort and pain
Hands-on soft tissue release and gentle joint realignment
Saddle fit checks for freedom of back movement
Infrared thermal imaging
I have recently added Infrared Thermal Imaging to my services. This non-contact form of scanning measures surface temperature to assist in locating musculoskeletal issues, tracking progress of rehabilitation and recovery from injury, and more.
I'm always adding to my knowledge. I'm currently completing a PhD in equine development (based at CSIRO, registered with UNE) and annually attend biomechanics workshops and dissection clinics. My blog, www.thehorsesback.com, has been read by over 250,000 people worldwide.
You can read more about my work on this site, but please feel free to get in touch if you have any queries – send a message or call 0447 672 523.