My name is Jane Clothier and I'm an equine bodywork practitioner working in the Armidale, Tamworth and Coffs Harbour areas of NSW. My work includes:
Full horse assessment for restriction, discomfort and pain
Release of muscular tension and gentle joint realignment
Regular work to release athletic potential
Rehab work for effective recovery
Saddle fit checks for freedom of back movement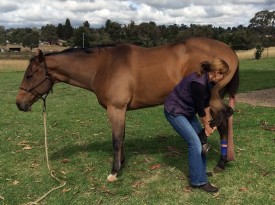 I work with two complementary approaches: a myofascial modality and an approach to joint realignment. The result is a thorough session that takes in the horse's whole body and addresses the issues that impact on one another in a compensatory chain reaction.
Having trained in saddle fit with two of Australia's finest saddle makers and fitters, I bring a trained eye to the fit of the saddle and the back pathologies and postural issues that can arise from an ill fitting saddle. I also work closely with professionals such as hoof trimmers and nutritionists to identify solutions to problems and find the best outcomes for your horse.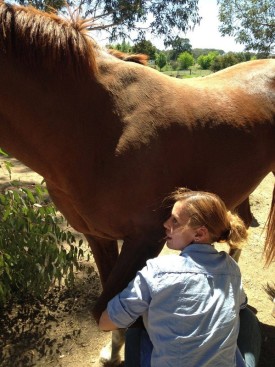 I'm always adding to my knowledge. I'm currently completing a postgraduate research degree in equine development (based at CSIRO, registered with UNE) and annually attend biomechanics workshops and dissection clinics. My blog, www.thehorsesback.com, has been read by over 250,000 people worldwide.
You can read more about my work on this site, but please feel free to get in touch if you have any queries – send a message or call 0447 672 523.

Gait Analysis and Equine Dissection Clinic with Sharon May-Davis
12-14 Aug 2016
Sharon May-Davis will be holding a 1-day Gait Analysis and 2-day Equine Dissection clinic in Walcha, NSW (40km from Armidale). This is available as a single event only, and demand will be high. Numbers are limited, so please don't delay in contacting me if you're interested in attending this fascinating and hugely informative event. Fee: $425 (deposit $125).
For more information: Please send me a message or call 0447 672 523.